If your head is still spinning from the quantum weirdness described in the preceding section, you can now relax a bit: in this section, we are back to good old classical physics!
What you need to know about waves
We use the term "wave" to refer to a quantity which changes with time. Waves in which the changes occur in a repeating or periodic manner are of special importance and are widespread in nature; think of the motions of the ocean surface, the pressure variations in an organ pipe, or the vibrations of a plucked guitar string. What is interesting about all such repeating phenomena is that they can be described by the same mathematical equations.
A rather nice animation of linear and transverse wave motions
Wave motion arises when a periodic disturbance of some kind is propagated through a medium; pressure variations through air, transverse motions along a guitar string, or variations in the intensities of the local electric and magnetic fields in space, which constitutes electromagnetic radiation. For each medium, there is a characteristic velocity at which the disturbance travels.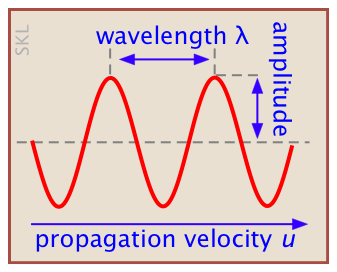 v = ν λ
Problem Example 1
What is the wavelength of the musical note A = 440 hz when it is propagated through air in which the velocity of sound is 343 m s–1?
Solution:
λ = v / ν = (343 m s–1)/(440 s–1) = 0.80 m
The nature of electromagnetic waves
Michael Faraday's discovery that electric currents could give rise to magnetic fields and vice versa raised the question of how these effects are transmitted through space. Around 1870, the Scottish physicist James Clerk Maxwell (1831-1879) showed that this electromagnetic radiation can be described as a train of perpendicular oscillating electric and magnetic fields.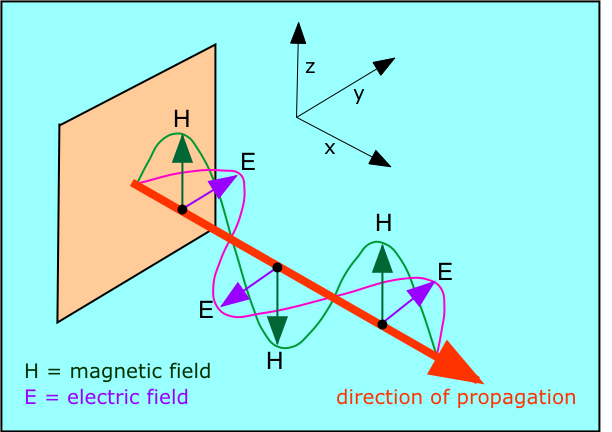 Maxwell was able to calculate the speed at which electromagnetic disturbances are propagated, and found that this speed is the same as that of light. He therefore proposed that light is itself a form of electromagnetic radiation whose wavelength range forms only a very small part of the entire electromagnetic spectrum. Maxwell's work served to unify what were once thought to be entirely separate realms of wave motion.
The electromagnetic spectrum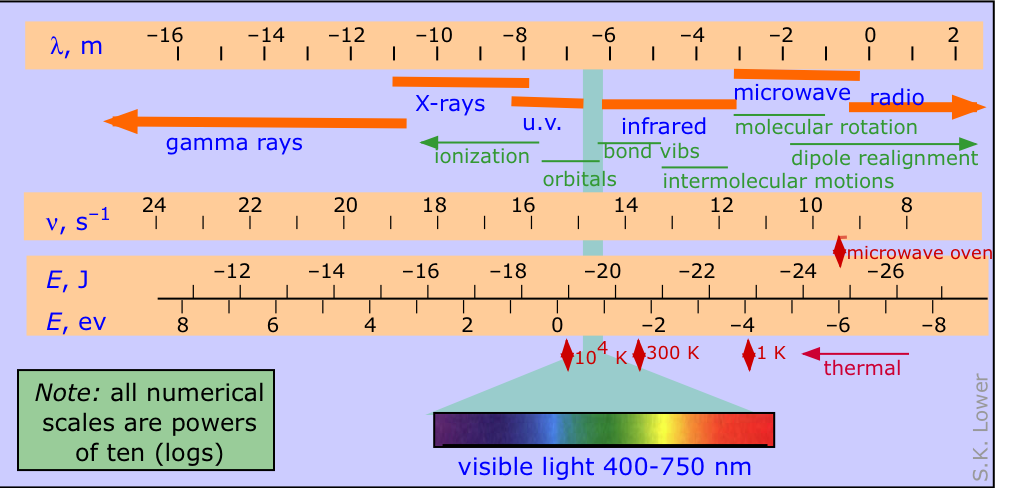 See here for a more detailed look at the electromagnetic spectrum
Electromagnetic radiation and chemistry
It's worth noting that radiation in the ultraviolet range can have direct chemical effects by ionizing atoms and disrupting chemical bonds. Longer-wavelength radiation can interact with atoms and molecules in ways that provide a valuable means of indentifying them and revealing particular structural features.
Energy units and magnitudes
It is useful to develop some feeling for the various magnitudes of energy that we must deal with. The basic SI unit of energy is the Joule; the appearance of this unit in Planck's constant h allows us to express the energy equivalent of light in joules. For example, light of wavelength 500 nm, which appears blue-green to the human eye, would have a frequency of

The quantum of energy carried by a single photon of this frequency is

Another energy unit that is commonly employed in atomic physics is the electron volt; this is the kinetic energy that an electron acquires upon being accelerated across a 1-volt potential difference. The relationship 1 eV = 1.6022E–19 J gives an energy of 2.5 eV for the photons of blue-green light.

Two small flashlight batteries will produce about 2.5 volts, and thus could, in principle, give an electron about the same amount of kinetic energy that blue-green light can supply. Because the energy produced by a battery derives from a chemical reaction, this quantity of energy is representative of the magnitude of the energy changes that accompany chemical reactions.
In more familiar terms, one mole of 500-nm photons would have an energy equivalent of Avogadro's number times 4E–19 J, or 240 kJ per mole. This is comparable to the amount of energy required to break some chemical bonds. Many substances are able to undergo chemical reactions following light-induced disruption of their internal bonding; such molecules are said to be photochemically active.
Quantum Concept Map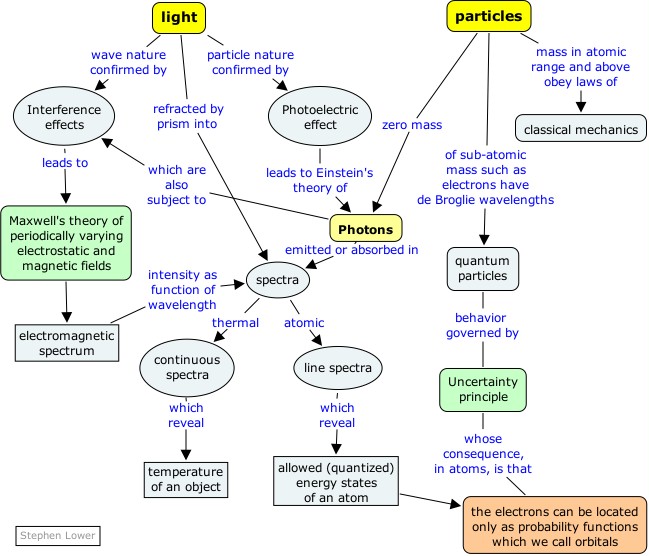 ---